CUSTOM CRYSTAL STYLE
MIYUE CUSTOM CUTS CRYSTALS TO ANY SHAPE OR DESIGN YOU NEED. WE WILL DESIGN A UNIQUE, BRANDED AWARD FOR YOU.
Note: We have our own designer. So our contact would be more easy,as our designer will free make out the crystal product design for you. Any design,any text,any logo are accepted.Even different text or logo for each pieces.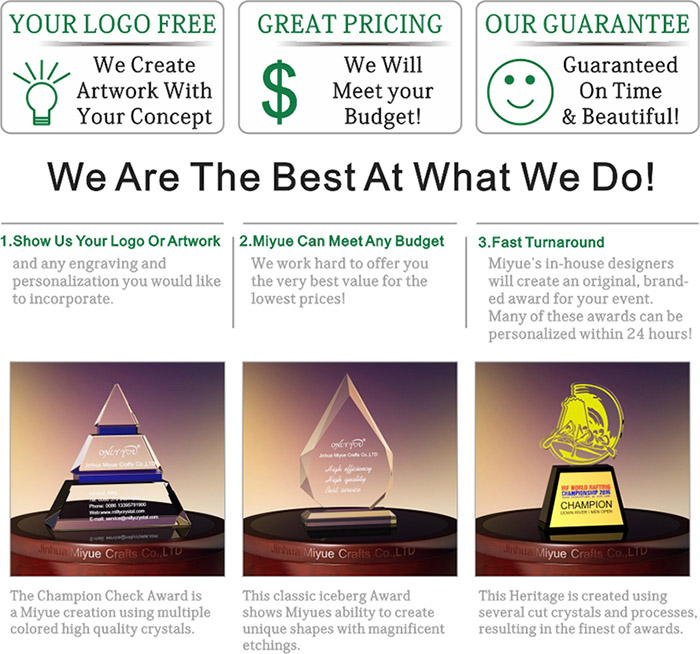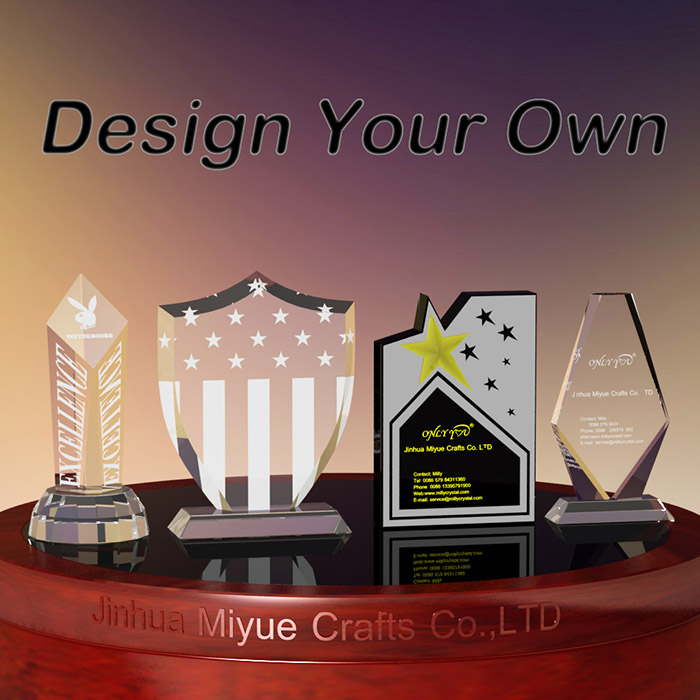 Custom Crystal
For over 15 years, Miyue has understood the importance of expensive looking awards with inexpensive price tags. We believe that you MIyue custom crystal awards should not only last a lifetime, but last a luxurious one. With decades of experienced awards manufacturing behind us, we've perfected beautiful custom crystal trophy awards that are made to last.
Increase your name recognition while simultaneously awarding your team, employees, clients and business partners alike with custom crystal awards and trophies. We'll work with you to develop your specialized crystal award from its beginning stages to the final product.
How To Order Custom Crystal?
At Miyue, everyone wins. So we make ordering your personalized crystal awards simple.
Artwork: Showcase Your Own Logo Embedded inside a Custom Crystal with Personal Engraving Lasered on the Surface
Design/Size: We Custom Cut Crystals to Any Shape or Size
Color: Choose From Multiple Crystal Colors to Recreate Your Logo.
Each designed crystal is individually quoted and includes FREE art and set up with as little as 50 pieces. You also get a free gift box with each customized crystal award.
These engraved crystal gifts are personalized gifts great for sports, businesses, service awards, scholastic achievements and much more.
Why Miyue Custom Crystal?
As Chinese largest awards manufacturer and with over 15 years of experience behind us, Miyue's Custom Crystal Awards are sure to fit your award-giving needs. Miyue Awards provides each customer with the highest quality products at the lowest prices available, making us your custom crystal award manufacturer of choice.
Call our custom department today to assist you with ordering your custom crystal awards, 86-13395791900 Be sure to check out our stock 3D Laser Crystals as well!